Encouraging the use of more timber products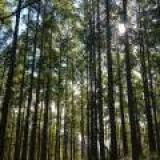 One of the key objectives of the North Coast Forests' Taskforce is to increase the demand for sustainably grown timber. We are very confident that any additional demand can be met by planting more trees and continuing to manage the forests in which they grow.
The finest hardwoods in the world come from the NSW North Coast - as can be seen in the image of the young blackbutt plantation.
Harvested and well-managed forests provide wonderful sanctuary for wildlife and are great places for us all to visit. And trees get re-planted - making timber the ultimate renewable resource.
The natural response to more sunlight on the forest floors is more flora, more wildlife. The carbon that is locked in trees gets recycled into other timber products where it can remain for many centuries.
How can you help??.........if you are a homeowner, a processor, a builder or a furniture manufacturer, next time ask where the timber comes from. If it comes from the North Coast Region of NSW you can be assured that it is the very best hardwood and grown from well-managed forests
How how might you become involved?....... please follow us on twitter or facebook by clicking on the links below.