North Coast Forests' Hero - Mal Green celebrates 50 years at Boral Heron's Ck Timber Mill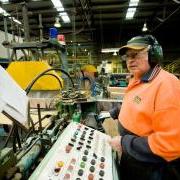 One of the longest-serving employees at Boral will this year celebrate half a century of continued employment – and Mal Green says he has no plans to slow down, or retire quite just yet.
Mr Green has spent the past 50 years working at the company's timber mill at Herons
Creek, on the NSW North Coast, where he started as a 17 year-old school leaver, initially
stacking pallet material and palings.
He currently operates one of the manual saw benches at the mill, a position he has held for about 30 years.
The Executive General Manager of Boral Timber, Steve Dadd, paid tribute to Mr Green on
behalf of his fellow workers and the company, describing Mr Green as a role model for
younger employees at the mill.
"It is an extraordinary achievement to have worked half a century in this physically
demanding industry," Mr Dadd said.
"Mal is still one of our best benchmen with a keen eye for timber and a wonderfully fluid way
of handling heavy machinery. His loyalty and commitment are an inspiration to all at the mill, and we wish him all the very best as he celebrates this milestone."
Mr Green was born into a timber family at nearby Wingham in 1946: his father, Ted, worked at Longworth's Logging in Laurietown, and introduced Mr Green to the then manager at Herons Creek soon after he left school.
His uncle and his brother-in-law also worked in the industry, and so, too, does his son, Paul, who has been with Boral Timber for about a decade.
Mr Green said that like the industry, he had experienced some hard times over the decades, including the closing down of other mills in the area and reduced work hours due to a drop in demand over the years.
"But I would not have it any other way," he said. "I have enjoyed working at Herons Creek – and the company has been good to me, especially during difficult family times."
"I have worked with some great crews over the past 50 years and have made some good
friends from the old days. And I enjoy working with the new crews, those I work with now. I have enjoyed the time here, which is why I have made 50 years and have no plans of leaving yet."
"Mr Dadd said Boral Timber had hosted a special thank you lunch for Mr Green, attended by employees at Herons Creek and Boral Timber executives."